A guide to sunny Calahonda on the Costa del Sol
Calahonda, or to be more accurate "Sitio de Calahonda" is one of the largest property developments on the coastal highway between Fuengirola and Marbella. In fact, it is so large, it is almost considered to be a town in its own right, while still being basically a suburb of La Cala de Mijas.
Close to the beach and with beautiful rural mountain scenery surrounding it, the area is becoming a popular tourist destination and there are many excellent Calahonda villas and apartments available for holiday makers as well as a couple of excellent resort hotels.
Calahonda is served by three commercial centres with every imaginable type of shopping experience, as well as around 45 pubs, cafés and restaurants and several banks, making it an ideal holiday destination.
For lovers of sand, sun and sea, Calahonda has its own chunk of the coastline, with safe access across the N-340 coastal highway, and even has a small port, Cabopino which is handy for sailors to dock their vessels and visitors can enjoy a quiet, tasty meal overlooking the water. Tourists can also enjoy a wide range of water sports in the area including kite surfing, scuba diving and fun "pedalo" boats.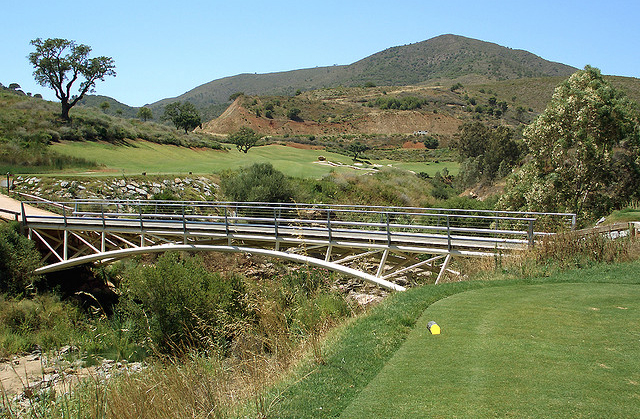 The Costa del Sol has earned the nickname the "Costa del Golf," as golfers are definitely spoiled for choice. Within a 10 kilometre radius of Calahonda there are a total of ten great golf courses. The closest golf courses are to be found in La Cala de Mijas, where there are three excellent 18-hole courses available. A little further away, Miraflores offers a golf and lawn bowls resort in a beautiful setting not far from the coastline, perfect for a game in the sun.
Heading even further inland from Calahonda, Mijas Pueblo, probably the most popular white village in Andalusia, is an easy visit up in the hills. With gorgeous views across the countryside the pueblo has much to offer the visitor.
When based in Calahonda, it is easy to access all the other attractions of the Costa del Sol. Driving in one direction takes you to Marbella, a coastal town popular with celebrities, especially the upmarket Puerto Banus, and a little further along is the quaint and rather more traditional Spanish seaside town of Estepona. Go even further and it is possible to visit the British territory of Gibraltar. Gibraltar is great fun for a day out, but do remember to take your passport as you will be crossing an international border.
Heading in the other direction from Calahonda, all the pleasures of the popular seaside resorts of Fuengirola, Torremolinos and Benalmadena Costa are waiting, with Malaga city an added attraction. While some consider Malaga to simply be their arrival airport, the city itself offers an excellent shopping and dining experience and lots of interesting museums and other attractions to visit.
While it is normally recommended that you hire a car during your holiday, this is not totally necessary. In Calahonda on the Costa del Sol, everything is within easy strolling distance and there are regular, air conditioned buses running along the coastal highway in both directions.
Photos:
Cabopino/Calahonda beach CC by-SA Konstantin
La Cala Golf image CC BY-ND 2.0 drklops
Cabopino "pedalo" boats image CC by-SA Konstantin